This plastic film recycling line is designed especially for the recycling of agricultural PE/PP films sticking lots of soil and other impurities. The recycling capacity is as high as 300-2000 kg/h. This plastic recycling line is very useful for crushing, cleaning, dissection, drying and packing of waste PE/PP films, finally those waste PE/PP films become renewable and reusing materials.
Before and after
Production Layout

Major Components of the Plastic Film Recycling Line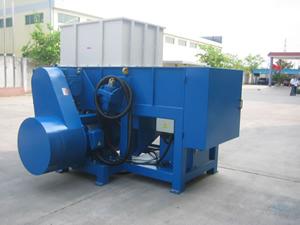 1. Single Shaft Shredder
As a key component of the plastic recycling plant, the single shaft plastic shredder comes with a slicingroll, which is suitable for thin films and flat ground blades. So the shredder can cut films efficiently and quickly, also avoid too much films twisting around on the slicing roll.
---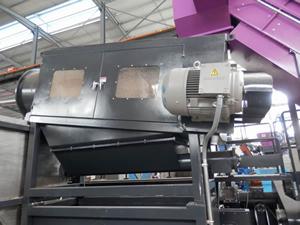 2. Pre-cleaning machine
The pre-cleaning unit for the plastic film recycling line can dry-clean big sized films to remove most impurities and soil in the films, shorten the next period of water cleaning and save the amount of water usage. However, you can also wash the film with water instead of dry-cleaning.
---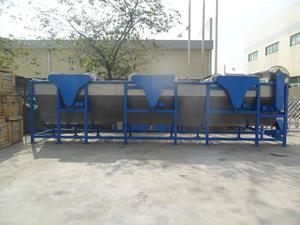 3. Pond for dissection and precipitation
With this unit, the plastic film recycling line is enabled to remove impurities with a lower density than water such as soil.
---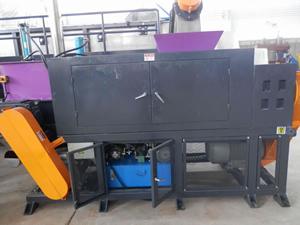 4. Integrated unit of drying squeezer and shredder
Main function: mechanical dewatering after cleaning those thin films. This unit of our plastic film recycling line uses big torque spinal to squeeze the loosen materials tightly and the water will flow out through the screen mesh. Then the shredder in the plastic recycling machine will crush the squeezed film chunks.
3E RECYCLING design and manufacture various shredders and recycling machines, with custom recycling lines and solutions for processing plastic film, PET bottles, rubber tire, scrap metal, municipal solid waste, medical, chemical and industrial waste, etc.