E-waste mountain, composed of all kinds of electronic wastes, is found now. 3E Group, as a professional recycling solution provider, allows the offering of custom waste printed circuit board recycling solution. Our recycling line, mainly aiming at printed circuit board industry, is applied to dispose and recycle all kinds of PCB wastes, like, frame materials, scrapped PCBs, PCB powder produced during PCB's manufacturing. Waste printed circuit board recycling line is easy operated, easy maintained, reliable, efficient, energy saving and eco-friendly.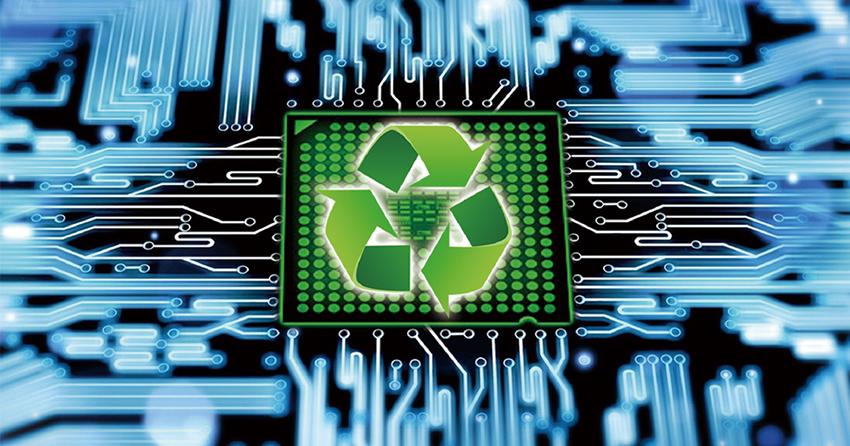 Manufacturing procedure

The waste printed circuit board recycling solution has the following equipment sets:
1. Belt conveyor; 2. Double shaft shredder; 3. L type belt conveyor; 4. Rough shredder; 5. Inclined screw shredder; 6. Crusher; 7. Non-metallic fine powder; 8. Air separator; 9. Copper concentrating unit; 10. Vibration screen; 11. Cyclone separator; 12. Pulse jet dust collector; 13. Waste gas purifier; 14. Chimney.
Advantages
The waste printed circuit board recycling solution has the following advantages:
1. Reasonable design, state-of-art manufacturing technologies and high automation level.
2. The recycling process of waste printed circuit board, from raw material feeding, is completed in a fully sealed environment, so it poses zero pollution towards environment.
3. Capacity: Our waste printed circuit board recycling solution allows an annual output of 3000 Tons. Meanwhile, different capacities could also be customized in accordance with customer's needs.
4. Energy saving and environmental protectiveness: Both the dusts and waste gas produced during waste PCB's recycling are orderly collected and disposed. So national standard GB16927-1996 Air Pollutant Emission Standard is perfectly satisfied. Meanwhile, with the introduction of soundproofing and noise reduction methods, we are also qualified for GB12348-90- Emission Standard for Industrial Enterprises Noise at Boundary.
Reasonable sorting and separation
After a comprehensive series of physically treatment methods, like shredding, rough shredding, crushing, air separation, gravity separation, magnetic separation and etc., those waste PCBs could be classified into two kinds: noble metal such as copper or non-metallic powder. All the dusts and waste gas will be orderly collected and purified before being discharged to the air.
Discharging
1. Recycling rate of metal: 93%~98%;
2. Average metal content of non-metallic powder: ≤2%~5% .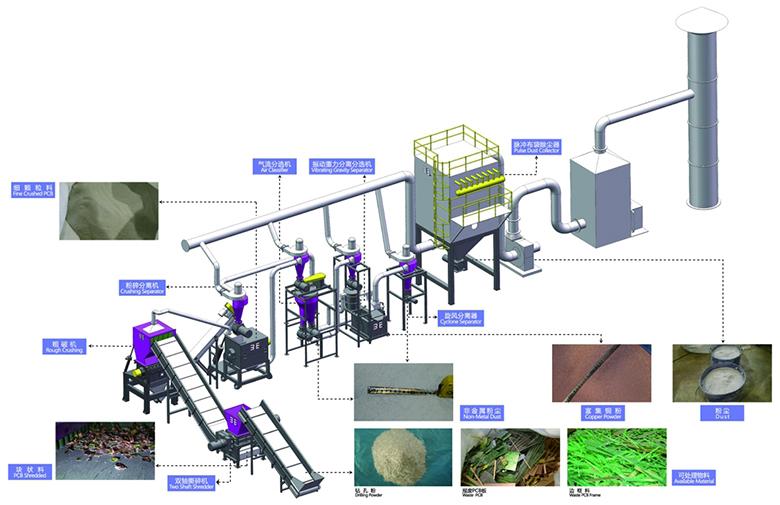 Fine granules, air separator, gravity separator, pulse jet dust collector, combination machinery, cyclone separator, rough shredder, non-metallic powder, copper concentrate,dust, shredded PCBs, double-shaft shredder, disposable material.
Main equipment
Double shaft shredder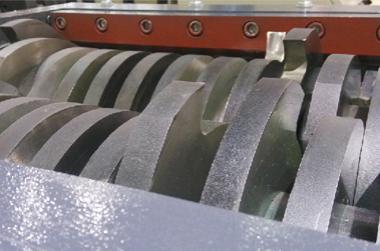 Double shaft shredder allows direct shredding towards hard materials, like waste PCB, PCB frame and etc. to block or strip type with a dimension of 20~50mm without any needs to screen.
---
Rough shredder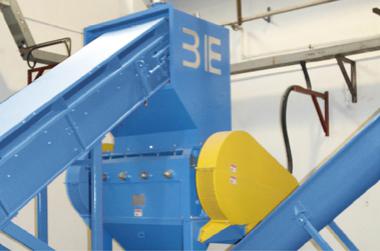 Rough shredder is applied right after double shaft shredder's working being completed. It allows the production of 10mm scraps or even smaller ones, whose utilization offers much convenience for further shredding.
---
Combination machinery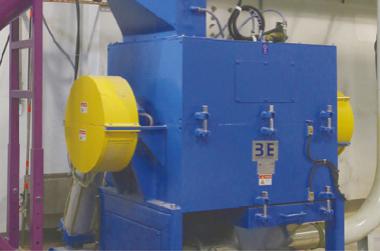 It is mainly used to convert block scraps into particle shaped ones, and to separate metal and non-metallic materials from PCB.
---
Air separator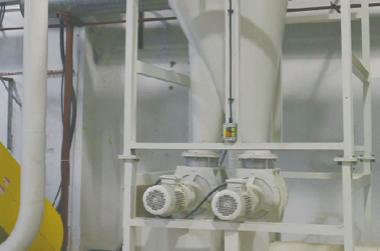 Since different materials own different densities, we fully refer to the philosophy of centrifugal force to sort different powders. In this way, ultra-fine and light non-metallic powder could be sorted out at first.
---
Gravity separator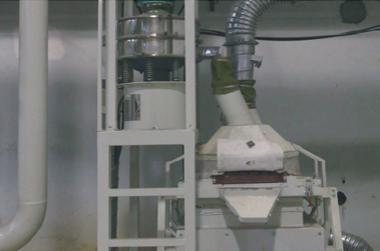 Since different materials own different size and different densities, we utilize the philosophy of hydromechanics to undergo fine separation towards metal powder and non-metallic powder.
---
Cyclone separator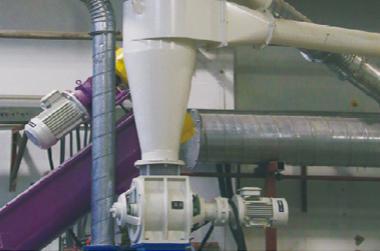 Because of the tangential entering of the air flow, this separator will produce rotational movements. So the solid particles with relatively large inertial centrifugal force will be thrown to the internal wall and sink. The air will be released from the top exit in order to accomplish gas-solid separation. This is a kind of separator widely applied in industries.
---
Pulse jet dust collector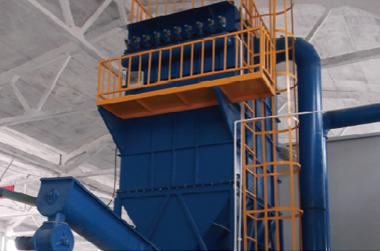 The dust included air will flow to the top from the bottom after entering the dust collector. After being filtered by the filter bag, the dust is guarded outside. The dust on the surface of the filter bag will be shaken off into the settling dust collecting hopper via the function of pulse airflow, while the gas will be released through the filter bag.