Single shaft Shredder

The single shaft shredder offers a great solution for recycling various solid wastes, including rubber wastes, plastic wastes, PET bottles, cardboard paper, printed circuit boards, waste wood, plastic buckets, power cables, and more. It is one of our basic models integrating functions of industrial paper shredders, wood shredders, rubber shredders, plastic shredders, cable granulator, etc.
Clients could select the corresponding single shaft shredder models according to the material size and quantity. You should specify the special requests if the industrial shredder is used for extremely hard materials, such as high strength engineering plastics including nylon, ABS and PC.
The single shaft shredder is composed of main shaft, stator knives, loading shell, shell supports, intake system, hydraulic pushing system and electronic control system. Materials are delivered into the shredding chamber by the intake system, and pushed to the blades inside the shredding chamber. After being shredded, squeezed and sheared, the processed materials in small pieces will be discharged through the screening mesh in the single shaft shredding machine.
Features of the Single Shaft Shredder
• DC53 steel is used for teeth, and D2 steel is used for fixed blade.
• Main electronic components for the heavy duty shredder are from Siemens and Schneider.
• Microcomputer technology incorporating rotator speed variations with start, stop
and reverse features.
• Automatic reverse sensors are applied to protect the single shaft shredder against over loading and jamming.
• Split bearing block technology is adopted so the blades can be changed
quickly and efficiently.
• Specifically designed rotor to be extremely wear resistant.
• Rotor teeth can be rotated 4 times before they need changing, lowering the running costs and reducing down time.
• Our single shaft shredder is able to process a number of different materials
• All the machinery and electrical devices are protected in accordance with the European CE standard.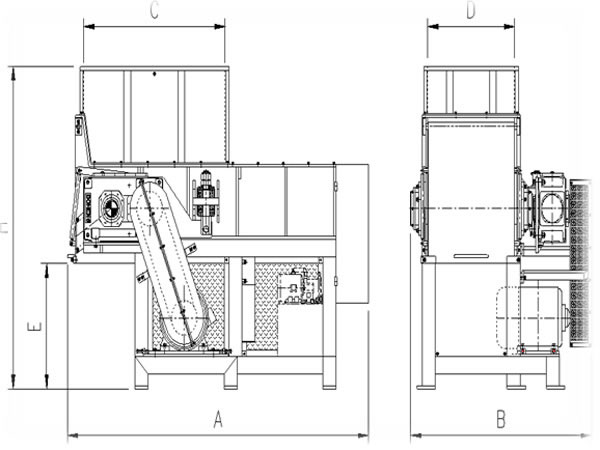 Technical Specifications of Single Shaft Shredders
Related Names
Single Shaft Shredder | Plastic Shredder | Wood Shredder | Cardboard Shredder