Film Shredder, SWTF Series

SWTF series film shredder adopts double film shafts design that rotates a medium speed, it features of low noise and high efficient without pusher.
This bag shredder is especially suitable for recycling the medium hardness and soft material, for example film, woven bag, jumbo bag, paper and so on. Aiming at different material, it could use different shaft.
Adopts SIENMENS microcomputer control system with functions of automatic start, automatic stop, and automatic reverse sensors to protect the shredder against over loading and jamming.
Applications
• Film
• Woven bags/ Big bags/ Tons bags
• Wood
• Paper
Key Features of Film Shredder
1. Double Shaft Design: Particularly design for soft material. Greatly improve the efficiency.
Without Pusher: It is more efficient because the material could be fed directly.
2. Shock Absorber: Absorbs vibration caused by the shredding operation. Makes sure the shredding process to be steady.
3. Gear Box: Hardened teeth on the reducer.
4. Bearing Seat: Protective bearing is covered to avoid foreign contamination entering the bearing housing.
5. Screen: Z type screen is mainly used for film material that can avoid jamming, and the output is more smoothly. Different screen size meets different customers requirement.
6. PLC Control System: Safety devices of our paper shredder are complied with CE standard.
Shredding Process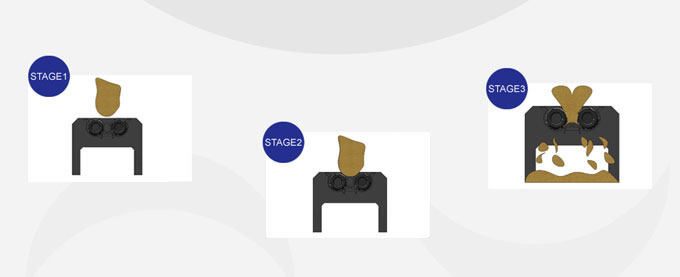 STAGE-1 Materials are fed into the rotor which has set the appropriate rotary speed.
STAGE-2 Materials are grabbed inside the blades of film shredder.
STAGE-3 Continuous shredding can maximize the production capacity.
Specification
Related Names
Big bag shredder | Tons Bag shredder | RDF shedder | Two shaft shredder | Twin rotors shredder | Crusher