Successful Running of Waste Tire Recycling Equipment in Fujian Aoxiang Plastic and Rubber Sports Product Co., Ltd.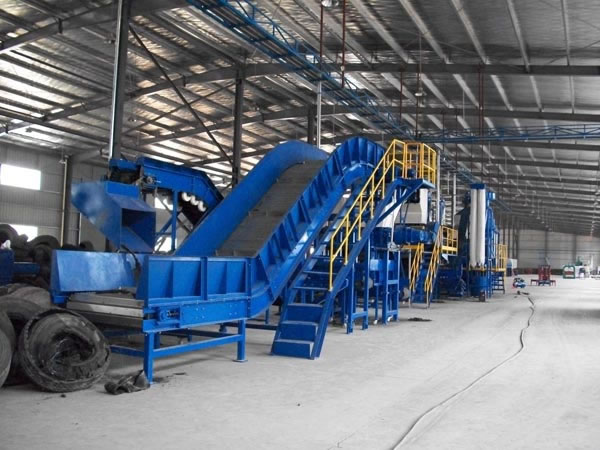 3E Machinery has been focusing on the research, development, production and marketing of tire recycling equipment since 2006. More than 40 set of products have been ordered and recognized by our clients by 2012. In recent years, the demand for waste tyre recycling plant is increasing rapidly due to the increasing popularity of environmental protection awareness in China. Accordingly, we initiated a series of sales campaign.
In Apr. 2012, the Fujian Aoxiang Plastic and Rubber Sports Product Co., Ltd heard about our company by a chance, after visiting almost all the tire recycling machinery manufacturers in China. Then their delegation including the president, general manager, and the project charger, visited us after 10 h driving.
Our equipment demonstration was just an eye-opener for them. Not only allow them to see our company's equipment design and manufacturing ability, but also, for the very first time, let them see such a tire recycling line in China which can automatically process 3 tons of full steel radial tire particles only with four operators. Additionally, the full steel radial tires can be directly put into the machine for processing without any pretreatment for steel wire.
The installation and maintenance of the equipment are very user-friendly. Each major machine is equipped with a motor and an opening and closing device for machine case and screen. Thus additional hoists or other lifting devices are not required during maintenance, reducing the maintenance difficulty. Quick change clamps and quick disassembling design are adopted for fans and the connecting parts of ducts.
Just by a simple visit, Aoxiang decided to adopt our tire recycling equipment. With the signing of the purchasing contract, the tire recycling plant achieved its success for the first time in China.
On August 10, 2012, the tyre recycling plant was put into use in Aoxiang. It can output 3 tons of 5-15 mesh rubber particles per hour. By March 2013, the recycling line has been used for six months and has handled more than 5000 tons of waste radial tire.
The rubber particle or rubber powder has been approved according to GB/T 19208-2008 by the Quality Supervision and Inspection Center of Rubber and Recycled Product in Petroleum and Chemical Industries. The test result showed that the metal content and fiber content are 0 for 5, 10, 16 mesh rubber particle and 40 and 50 mesh rubber powder, significantly lower than other similar products. Its blades in double shaft shredder and wire separating machine have not yet been grinded for repair. The blades in rubber crusher have been grinded only once.